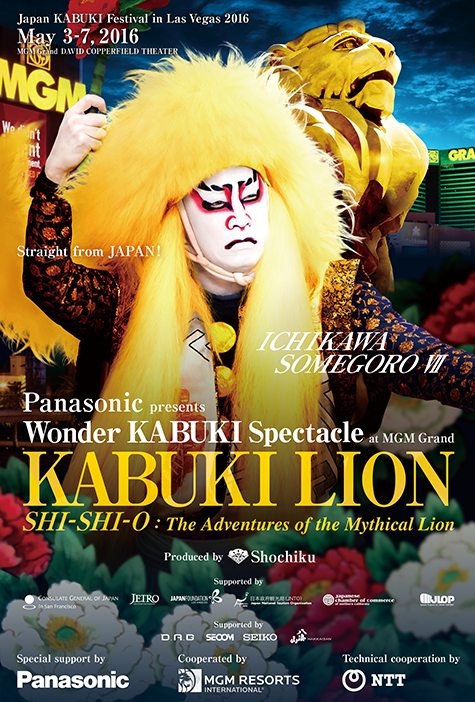 Shochiku will be presenting "Japan KABUKI Festival in Las Vegas 2016" this coming May 2016 in Las Vegas, Nevada in succession to the performance that took place in the Fountains of Bellagio in August 2015. The event will be supported again by MGM Resorts International and a Kabuki performance "Panasonic presents Wonder KABUKI Spectacle at MGM Grand KABUKI LION SHI-SHI-O: The Adventures of the Mythical Lion" will take place in a theater in Las Vegas, along with yet another exciting fountain show.

In August 2015, Kabuki actor, Ichikawa Somegoro starred in an original fountain show that integrated Kabuki, the waterworks of the choreographed fountains, and video projection created by Japan's leading digital artists - the event was an enormous success.

For May 2016, an original new Kabuki play will be created specially for the David Copperfield Theater in MGM Grand, featuring Ichikawa Somegoro and in collaboration with technological artwork. Also at the Fountains of Bellagio, in succession to last year's critically acclaimed performance, a new version incorporating the fountain choreography with video projection will take place. This project is sponsored by Panasonic Corporation and several other organizations. Furthermore, with the technical cooperation of Nippon Telegraph and Telephone Corporation, Shochiku Co, Ltd. and the company will research and explore together high tech entertainment. The spatial design and video projection will be created by internationally reknown media artist groups from Japan: the performance in the theater will be in collaboration with NAKED Inc., and the fountain show will be in continuation to last year's collaboration, teamLab Inc.

Shochiku is excited to present this unique collaboration between cutting edge technology and traditional Kabuki theater of "Japan KABUKI Festival in Las Vegas 2016," in a city abundant in exciting entertainment and where people from all over the world visit.
Japan KABUKI Festival in Las Vegas 2016
Tuesday, May 3 - Saturday, May 7, 2016
Kabuki Theatrical Performance

Venue
MGM Grand, David Copperfield Theater
Date & Opening Times
May 3 (Tue) - May 7 (Sat), 2016
Artists

Staff
Scriptwriter

Tobe Kazuhisa
Choreographer

Onoe Kikunojyo
Composer

Imafuji Chotatsuro
Narimono Arrangement

Tosya Roetsu
Takemoto Arrangement

Toyozawa Choichiro
Transcription of Narimono Arrangement

Tosya Roei
Art Director

Nakajima Masaru
Lighting

Ikeda Tomoya
Sound

Naito Hiroshi
Action Choreographer

Morokaji Yuta
Stage Manager

Asaka Tetsuya / Horimoto Akihiro
Spatial Designer

NAKED Inc.
Highlights
This KABUKI LION: An original new Kabuki play created for the David Copperfield Theater in MGM Grand, featuring Ichikawa Somegoro and integrating new media art.

The story is based on the legend of the father lion who throws his child into a ravine to test his strength through hardship. The show incorporates several typically kabuki elements that will astonish the audience: elegant dances, the unique onnagata female role portrayed by a male actor, acrobatic fight scenes and the lion's vigorous movements, lavish costumes and makeup and many other treasures of this traditional Japanese theatrical artistry. Integrated into this is the video projection created by leading Japanese creative media artists.
The STORY
The story takes place at Mount Seiryo - a Buddhist ethereal location where the gods live. Shi-Shi-O serves Monju, the Buddhist deity of spiritual wisdom. Shi-Shi-O's children will be celebrating their coming of age but before this rite of passage, he sends them on a mission. They are to defeat a mythical creature who is said to be the dark-side of the human heart, to return the treasured sword Shi-Shi-Maru that was stolen from Monju. The brave brothers descend from the stone bridge to the netherworld.

They disguise themselves as humans and courageously fight the creature, and upon their victory, return to Mount Seiryo. Monju validates the brothers' coming of age and the shishi-lions celebrate gloriously.
Movie
Tickets

Panasonic presents


Water Screen Digital Show

by Shochiku x teamLab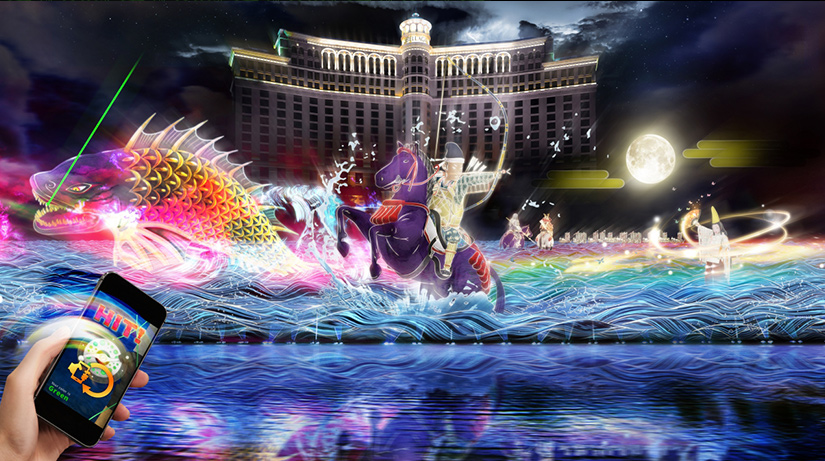 Date & Time
April 29 - May 7, 2016
4 shows everyday starting at 8:00PM / 9:00PM / 10:00PM / 11:00PM
Location
Fountains of Bellagio, Las Vegas, NV
Tickets
Free
Highlights
I. Water Screen Show: A hologram image show featuring scenes from the most famous battle of samurais is displayed on the screen of water splash from the fountain of the Bellagio. The story is a beautiful and dynamic presentation.
II. Interactive Game on Water Screen: A collaborative fishing game in which participants download a game app on their smart phone and use it like a fishing reel to team up with other participants to catch a variety of fish. Children's Day in Japan is in May, and the carp is a symbol of a child's growth and success in life. It will be fun just to watch, but please join in to catch a carp and bring home a piece of Japanese culture.
*Download The game app "GURU GURU Fishing Reel"
Search "kabuki festival" at iTunes or Google Play !
Created by
teamLab Inc.
COPYRIGHT © SHOCHIKU CO.,LTD ALL RIGHTS RESERVED.