A ground-breaking production of a Special Kabuki show will soon premiere in Las Vegas this summer. It is entitled 'Panasonic presents a KABUKI Spectacle at the FOUNTAINS OF BELLAGIO,' featuring Kabuki Star, Ichikawa Somegoro VII, and Nakamura Yonekichi V, and produced and brought to you by Shochiku.

It is a spectacular show that brings together dynamic video projections over the water and live Kabuki actors , based on the famous Kabuki story, "Koi-Tsukami", 'Fight with a Carp'.

For the first time in its 400 year history, Japan's traditional Kabuki meets the cutting-edge technology of Panasonic and the "Ultra-technologist", team Lab.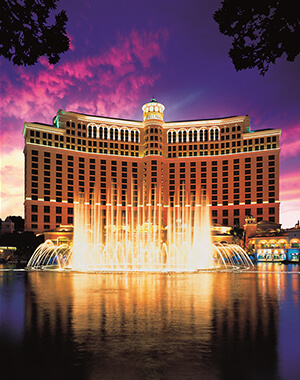 Dates:

August 14 - 16, 2015
Venue:

Fountains of BELLAGIO
Bellagio, 3600 Las Vegas Blvd South, 
Las Vegas, NV 89109, U.S.A.
Event Times:

08.14 | 9:15 p.m.
08.15 | 9:15 p.m. & 11:30 p.m.
08.16 | 9:15 p.m. & 11:30 p.m.
No ticket charge
Produced by Shochiku Co., Ltd.
With the special sponsorship and the technical Cooperation of Panasonic Corporation
With the sponsorship of D.A.G Inc.
With the cooperation of MGM RESORTS INTERNATIONAL
Subsidized by J-LOP+, funding from The Ministry of Economy, Trade and Industry
Ichikawa Somegoro VII.
Born in 1973 into one of the most illustrious acting dynasties in Japan, Ichikawa Somegoro is the son of kabuki superstar, Matsumoto Koshiro IX. This family of actors can trace its lineage back to the late 17th century, and today it still continues to hold a position of great power and prestige. Under the name Matsumoto Kintaro, Somegoro debuted in 1979 at the Kabuki-za Theatre in Tokyo, and in 1981 he inherited the name previously borne by his father of Ichikawa Somegoro, becoming the 7th generation to bear that name. Outside of kabuki, Somegoro is also famous in Japan for appearances in films and tv dramas, as well as other forms of theater such as the musical "Amadeus" in which he played Mozart. He is the head of the Matsumoto School of traditional Japanese dance. Known for his remarkable looks and talent, Somegoro is one of kabuki's younger generation of leading lights.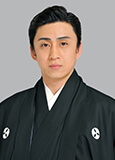 Nakamura Yonekichi V.
He was born in 1993 as the first son of veteran kabuki actor Nakamura Karoku V. In 2007, he succeeded to his father's previous name and became Nakamura Yonekichi V. He is one of kabuki's most promising young "onnagata" (actors who specialize in female roles) and, despite his youth, he has already successfully tackled some of the greatest roles in the repertoire. Much is expected from him in the future.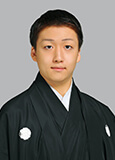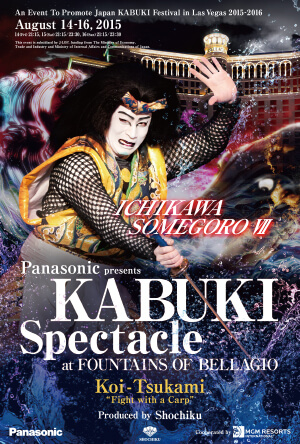 About the Play
This play is famous for its dynamic use of real water in its staging, where the main character jumps in and battles with the spirit of a carp ("koi" in Japanese). Due to the feeling of coolness that water gives, it has been customary since the Edo period (1603-1868) to perform this play during the hot summer. In Japanese, the word "koi" can also mean "love" and therefore the fish has been associated with successful love. Legend also says that a carp climbed a waterfall and became a dragon, so this fish became a symbol of success in business and education. To celebrate the first performance of kabuki in Las Vegas, the spectacular scene "Koi-tsukami" will be staged in the Fountains of Bellagio. With over 400 years of history, kabuki is one of Japan's greatest performance arts. The magnificent costumes and beautiful movements displayed by the actors, and the dynamic fight scene coordinated with the fountain, set against projected images on the grand water-screen, all come together to make an exciting new form of entertainment.

For further information on Kabuki
Synopsis
The scene takes place at Lake Biwa, the largest lake in Japan, which is famous for its beautiful scenery that is also reflected on the water. To enjoy this splendor on a fine spring day, Takimado Shiganosuke (Somegoro), a handsome young man, and the beautiful princess Kozakura-hime (Yonekichi) come gliding on a small boat. When the two alight from the boat and step onto the stage, the season shifts to summer and the couple dance intimately in a scene depicting the viewing of fireflies. Then autumn arrives, and the mountains are aglow in hues of red and orange. The dance becomes more elaborate and now, illuminated by the moonlight, when Shiganosuke looks down at Kozakura-hime's shadow he realizes that she is actually a carp's spirit in disguise. It turns out that Kozakura-hime is a female red-carp that has transformed itself into human form. It has done this because it wants to avenge the death of its fiancé, a male black-carp, which was brutally killed by humans. Now that her identity is revealed, the princess changes into a gigantic, monstrous fish, and Shiganosuke bravely fights the carp in the lake…
Movies
Production Staff
Choreographer

Onoe Kikunojyo
Scriptwriter

Tobe Kazuhisa
Composer

Imafuji Chotatsuro
Narimono Arrangement

Tosya Roei
Takemoto Arrangement

Toyozawa Choichiro
Executive Technical Coordinator

Tanaka Yoshihiko
Technical Director

Igarashi Kazuhiko
Art Director

Nakajima Masaru
Stage Coordinator

Natori Chihiro
Lighting

Ikeda Tomoya / Norihara Yasushi
Sound

Sound SBS / S.C. ALLIANCE
Projection Mapping

teamLab
Action Choreographer

Maeda Satoru
Stage Manager

Nakagawa Norikazu
Producer

Okazaki Tetsuya / Aoki Wataru
COPYRIGHT © SHOCHIKU CO.,LTD ALL RIGHTS RESERVED.